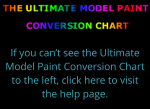 If The Ultimate Model Paint Conversion Chart isn't visible to the left of this text, please visit the help page to get it running
Welcome to the Ultimate Model Paint Conversion Chart. Modellers have their favorite ranges of paint they like to use on their models but seldom do the kit makers include those references implicitly. Now you can, in real-time, see direct comparisons* between over 25 different standards and ranges.
For example, Airfix kit instructions use Humbrol references for painting information but you want to use Testors Model Master on your kit. No problem, simply click to select Humbrol and Testors and you're done. Want it sorted by Testors color number - simply click on the heading and its done.
Built-in color swatch: Many colors have RGB approximations available, click on the row to see a color swatch where available.
Movable columns: Prefer to have the paint name column before the number column - simply drag the columns where you want them. It really is that easy. Whilst every effort is made to provide the most accurate color matching possible we cannot be held responsible for any inconsistencies that may arise. Your use of this website and data acknowledges this. All conversions should be treated as approximations only, all monitors are different, calibrated monitors will be more accurate but there is no guarantee as to the correctness of the RGB swatch. Paint4models.com provides information and conversions of paints for the scale modeller Standards include FS, FS595, FS595B, FS595C, RGB, RAL, RLM, US ANA, US Navy, RAF, Marines, Luftwaffe, Imperial Japanese, USAF, Federal Standard Paint makers include Humbrol, XtraColor, Xtracrylix, White Ensign, Airfix, Testors, ModelMaster Polly Scale, Pactra, Vallejo, Life Color, Revell, Andrea Color, Heller, Tamiya, Gunze Aqueous, Citadel Colours Mr Color, Quarter Master Also covers matt, enamel, spray, metallic, gloss, semi-gloss, primer, varnish So, if your kit is injection plastic or resin you'll find a paint to suit whether the kit comes from Airfix, Academy, AMP, Anigrand Craftswork, Art Model, AZ Models, Azur, Condor Ukraine, Cyber-Hobby, Eduard, weekend, Fly, Hasegawa, Hobby Boss, Italeri, Kora, MPM, Omega Models, Revell, RS Models, Sharkit, Special Hobby, Sword, Tamiya, Trumpeter, Two Six Models, Valom, Welsh Models, Zvezda And it doesn't matter if the airbrush is Iwata, Badger, De Vilbiss, Harder & Steenbeck, Hansa, Testors, Revolution, Eclipse, Kustom, Paasche, Premi-Air